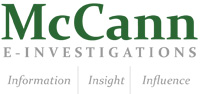 Austin, TX (PRWEB) June 03, 2012
McCann E-Investigations (McCann EI), a Texas-based computer forensics firm announced that it has launched a new website solely focused on Austin Computer Forensics. The new website will allow Austin customers to have access to information and overviews of Austin computer and digital forensics information with links to even more information at McCann EIs main site.
McCann EIs Austin computer forensics division provides digital services to law firms, private businesses as well as to individuals in various case types such as family law, bankruptcy, fraud and embezzlement. In addition to Austin computer forensics service, McCann EI Austin also provides digital forensics services and network breach remediation.
Austin, Texas is a vast market for computer forensics cases. said Gary Huestis, Director of Forensics Services at McCann E-Investigations. We provide multiple services to our Austin computer forensics clients including cases such as contentious divorces, intellectual property theft and non-compete enforcement. continued Huestis.
Gary Huestis is the Director of Forensic Services for McCann EIs Austin digital forensics. Mr. Huestis is an EnCase certified examiner and a licensed private investigator.
About McCann EI:
http://www.einvestigations.com
Twitter: @McCannEI or https://twitter.com/#!/McCannEI
Facebook: https://www.facebook.com/pages/McCann-Investigations/203760582969139
Call us toll-free at 800-713-7670
McCann Investigators follow the trail and decipher the information regardless of whether the evidence is digital, such as electronically stored information found on computers, mobile phones or other devices or if the investigation requires traditional private investigative services. McCanns PI tools and techniques include surveillance, undercover work and detailed record searches. The final product helps our clients gain a deeper understanding of what has happened or what is occurring. The gained clarity and discovery of truth allows our clients to quickly respond and recover.
McCann EI is based out of our state-of-the-art forensic labs in Houston, which provide the latest in computer forensic and IT security technology. Our e-investigators combine digital skills with traditional private investigative techniques to provide you with an one-stop solution for your investigative needs. Our lab houses our computer forensics and electronic discovery service along with our databases, surveillance technology, and undercover investigators. Our investigators are experienced in providing expert witness testimony, including computer forensic testimony, in courts across Texas. Although we are headquartered in Austin, our investigators live in and work in cities all across Texas.
Call us toll-free at 800-713-7670 or speak to a local investigator:
Austin Computer Forensics: 512-377-6142

Houston Computer Forensics: 832-628-4904

Dallas Computer Forensics: 214-329-9059

Lubbock Computer Forensics: 806-589-0320

Lufkin Computer Forensics: 936-585-4070

Brownsville Computer Forensics: 956-465-0849
Related Expert Witness Press Releases