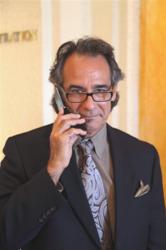 Tampa, Florida (PRWEB) July 02, 2013
Expert Witness Stephen Delgado recently rolled out his Mold Awareness and Prevention Seminar, which draws on Stephen's more than 25 years of experience in the water damage restoration and indoor air quality industries. Stephen has seen first hand the perils of ignored excess moisture on building materials. He has performed insurance restorations, flood damage restorations, emergency services, structural drying, and mold-related services on millions of square feet in commercial and medical properties since he began his career in construction. Steve has an established record, offering litigation support to Florida attorneys while serving as Expert Witness, providing legal testimony on indoor air quality claims, construction claims, and large loss insurance or catastrophic property damage claims.
The Awareness and Prevention Seminar is designed for commercial maintenance engineers, property managers, facility managers, private medical practices, hospital administrators, and assisted living community facilitators. The seminar reminds attendees about the health symptoms related to exposure to some fungus and the health risks for infants and the elderly, as well as for immuno-compromised and respiratory-compromised individuals. Stephen teaches how to prevent mold by controlling moisture and humidity and performing regular moisture investigations as part of an ongoing maintenance schedule. During the seminar, attendees review case studies and discuss ethical concerns and risk management to illustrate the benefit of invoking prevention strategies proactively rather than responding retroactively. The seminar shows that it is much less expensive to control moisture and humidity than to pay for mold remediation services and defend against potential lawsuits. During the seminar, Stephen also performs a hands-on moisture investigation for the benefit of Maintenance Engineers who can participate in a question and answer setting. Stephen teaches how to document moisture investigation results and ensure successful drying projects and how to respond to complaints in order to manage risk.
Most Administrators and Property Managers comment after the seminar that they have a renewed understanding – to manage risk, you must manage moisture. Facility Maintenance Engineers leave the seminar with a fresh pair of eyes. All attendees gain understanding of the return on investment of prevention. They realize that skimping on structural drying after a water damage incident, or ignoring moisture, will amplify risk and cause costs to escalate quickly.
More about Coastal Disaster Recovery, Inc.

Stephen Delgado leads Coastal Disaster Recovery, Inc. as one of Tampa's longest-operating water damage companies. Stephen has been providing services to medical facilities, assisted living communities, hospitals, commercial properties, office buildings, apartment complexes, and residences for over 25 years. Stephen also serves as an expert witness in construction, mold claims, and large loss claims in Florida. Contact Stephen now at 727-725-8999 to discuss how your Commercial and Medical Facility Managers can benefit from Coastal Disaster Recovery's Awareness and Prevention Seminar.