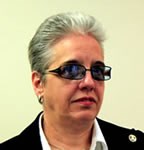 Stockton, CA (PRWEB) October 08, 2013
Experts.com is honored to announce one of its newest members, Eleanor E. Spring. A principal at SpringAction Fraud Elimination, Ms. Spring has spent many years dedicated to fraud deterrence, detection, and recovery, and identity theft risk management. As a Certified Deception Detection Expert, she utilizes Behavior Analysis, the reading of body language, during interviews to detect the truth in fraud related crimes.
As a certified leader in the field of identity theft and identity theft risk management, her knowledge and experience in understanding how identity thieves operate has helped put hundreds of criminals behind bars. Ms. Spring works with local police and legal counsel to cut losses, reduce liability, discreetly interview witnesses, interrogate suspects, identify fraudsters, get written confessions and write professional fraud investigation reports that stand up in a court of law.
Ms. Spring is engaged by attorneys for both Plaintiff and Defense in Fraud and Identity Theft situations for investigation, data examination, interviewing of victims, witnesses and suspects, and litigation support. Her interrogation experience combined with her ability to detect deception through direct discreet contact with victims, witnesses and suspects means fast effective resolutions
Ms. Spring is a regular guest on the NYC / FBI Infragard Alliance streaming media show, and is the go-to fraud expert for the Infragard Alliance Organization, a partnership between the FBI and the private sector, and associated with businesses, academic institutions, state and local law enforcement agencies, and other participants.
Eleanor E. Spring is one of Experts.com's cadre of world-class expert witnesses and consultants. Her engagements are within the domains relating to bank record analysis, credit card, fraud, counterfeit document detection, employee theft, forensic mortgage audits, identity theft and other fraud related crimes.
MORE ABOUT ELEANOR E. SPRING

Visit Eleanor Springs Website: http://www.springactionfraud.com

View Eleanor Springs Expert Witness Profile on Experts.com
ABOUT EXPERTS.COM – KNOWLEDGE CONNECTED!(TM)

Since 1994, Experts.com has offered expert witnesses and consultants worldwide an effective, efficient, and economical platform to promote their services and knowledge to legal professionals, the media and other prospective business clients worldwide. Experts.com does not broker the engagement between the clients and members. Clients may search over 1300 expert witness areas of expertise or have Experts.coms knowledgeable staff complete the search for no added cost. 1-866-2-EXPERTS