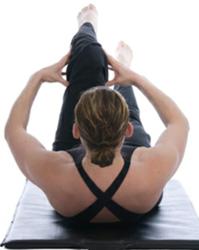 Eagan, Minnesota (PRWEB) December 15, 2011
Release holiday stress and create whole-body fitness with Pilates classes at YogaSoul Center in Eagan. All new students receive 1 week of unlimited classes!
The full-scale studio offers a full range of Pilates classes that strengthen without adding bulk, increase flexibility, develop core strength, improve posture, increase energy, as well as promote weight loss. Pilates can also create a long, lean appearance.
Pilates creates body awareness that can change the daily lives of people of all ages, ranging from the average person to athletes, as well as those with physical injuries and in need of rehabilitation.
YogaSoul Pilates instructor Shannon McGarrigle can attest to Pilates power.
I have gained abdominal control and strength, and have defined arms and legs that are stronger than the ones I had during high school when I was in tennis, track, and cross country skiing, said McGarrigle, who has been teaching at YogaSoul since spring of 2009. Pilates is a way to invest in your body. The concentration and focus used leads to increasing your own knowledge of your posture, as well as your learned bad habits. The Pilates method creates a stronger center to rely on, and teaches you how to be more effective in your movements, whether it be running on a treadmill, skiing or even carrying groceries.
She said Pilates at YogaSoul is special because it creates a community environment where people can practice without a sense of ego or competition.
Mat classes, equipment and private sessions are available. Mat classes give an overall body workout and teach the fundamental floor exercises and principals of breathing, concentration and coordination. Reformer, Chair and Cadillac Pilates equipment were invented by Joseph Pilates to bring the mat principals to a whole new level. With the equipment, resistance is built into the exercises and utilizes hundreds of exercise variations. It can also be modified to suit the needs of any fitness level, as well as people rehabilitating from injury.
YogaSoul Centers mission is to help clients win the battle against stress. It has an extensive class offering in several styles of yoga, including Kundalini, Hatha, Yin, and Vinyasa. It boasts a fully equipped Pilates studio and offers many kinds of classes, including Zumba, Tai Chi and belly dancing. Its full roster of teachers and healers provide clients with a variety of healing services, including intuitive readings, Reiki, Thai yoga bodywork, Ayurveda, energy work and several others. YogaSoul also hosts special workshops and Kundalini yoga teacher trainings.
To see a full schedule, make an appointment with a healer or sign up for a class, visit YogaSouls website, http://yogasoul-center.com/. New students get their first week of classes free.
###